Highlights from the 2010 ONS Annual Congress
Please Log In or Register to continue.
Release Date: July 16, 2010
Expiration Date: July 16, 2011
Program Overview
Multiple myeloma (MM) is a clonal B-cell tumor of plasma cells residing in the bone marrow. Under normal conditions, approximately 5% of bone marrow cells are plasma cells. In patients with MM, the percentage is significantly higher. Individuals with MM are typically asymptomatic, but in spite of no obvious signs or symptoms of the disease, in 2009, approximately 20,000 people were diagnosed with the disease. Prevalence is greatest in populations of men, especially African Americans, and the elderly of both genders (>60 years of age). The 5-year relative survival rate for individuals diagnosed with multiple myeloma is currently estimated to range from 35% to 37%. During remission, the patient with MM will not only require care for effects of the disease, but for results arising from the very treatments used to prolong life.

Novel advances in treatment of MM are emerging and although evidence demonstrates significant improvements in patient survival rates and health-related quality of life during remission, the management of patients with MM is becoming more complex, requiring new knowledge and competencies for the nurse who is directly involved with patient care. Nurses play an essential role, working with physicians to increase disease awareness, facilitate or provide an accurate assessment for diagnosis, assist with treatment selection, and provide safe and effective management of treatment side effects.

The goal of this activity is to provide nurses with summary information presented at the 35th Annual Meeting of the ONS. Posters and presentations focused on recently approved treatments and methodologies for use in best-practice nursing management of MM.

Reference
Jagannath S, Richardson P, Munshi NC. Multiple myeloma and other plasma cell dyscrasias in: Cancer Management: A Multidisciplinary Approach, 12th Edition, CMP Medica: New York (2009).
Intended Audience
This activity is designed for nurses and nurse practitioners (NPs) interested in learning more about multiple myeloma and the management of these patients.
Learning Objectives
At the end of this program, participants will be able to:
Describe elements associated with the development of a long-term survivorship care plan for patients with MM and define its potential value based on recent guidance recommendations.
Identify infection-reduction techniques that have demonstrated improved outcomes for patients with MM.
Describe management protocols designed to remove barriers to care for improved access to treatment for patients with MM.
General Information
Release Date: June 16, 2010

This activity is eligible for credit through June 16, 2011. After this date, this activity will expire and no further credit will be awarded.

Expected time to complete this activity as designed: 1.0 hour

There are no fees for participating in this activity. In order to receive credit, participants must complete the entire video program as designed. Following the presentation, participants must complete the Activity Evaluation Form as well as the self-assessment. A minimum score of 70% on the self-assessment must be achieved in order to receive credit. Certificates may be printed immediately after successfully completing the online self-assessment and evaluation.
Accreditation
NURSING CREDIT
Accreditation Statement: MediCom Worldwide, Inc., 101 Washington Street, Morrisville, PA 19067 is approved by the California Board of Registered Nursing, Provider Number CEP11380. MediCom designates this CNE activity for 1.0 contact hour. Program Number: 10-255-245.
Faculty
Ms. Lynda A. Seminara
Independent Medical Writer/Editor
Cherry Hill, New Jersey

Ms. Seminara graduated (cum laude) from the University of Pennsylvania in 1985. Her career in medical publications began at W.B. Saunders Company, where she advanced rapidly to become Operations Manager of the Journals Department.
Since 1993, Ms. Seminara has been self-employed, serving clients in the fields of medical communications, publishing, and advertising. She helps prepare an array of biomedical materials, including CME programs, USMLE lectures, feature articles, scientific posters, abstracts, slides, monographs, dossiers, and product training materials. Her work encompasses many therapeutic areas, including oncology, cardiology, endocrinology, neurology, surgery, digital imaging, and pain management.

Ms. Seminara is a member of the American Medical Writers Association and serves as senior editor for the International Scleroderma Network.
She has been profiled in several "Who's Who" compendia, including "Cambridge's Who's Who of Executives & Professionals" and "Marquis' Who's Who in the World."
Disclosure
In accordance with the Accreditation Council for Continuing Medical Education (ACCME), ACPE and California Board of Nursing, MediCom Worldwide, Inc. requires that all program planners, faculty, and providers who are in a position to control the content of a CE activity are required to disclose any relevant financial relationships they may have or have had within the last 12 months with the commercial supporter or the manufacturer(s) of any commercial device(s) discussed. Accordingly, the following disclosures were made.
Faculty Disclosure
Lynda A. Seminara has disclosed that she has no significant relationships with the grantor or any other commercial company whose products and services may be related to the articles.
Planner and Provider Disclosures
The individuals listed below reported the following for this activity: Eugene Tombler, PhD, medical director-oncology, MediCom Worldwide, Inc., has nothing to disclose.
Carol Viele, RN, MS, CNS, clinical reviewer, has received honoraria related to speakers' bureau activities from Celgene Corporation, Merck & Co., Inc., and Novartis AG.
Off-Label Disclosures/Investigational Disclosures
This educational activity may contain discussion of published and/or investigational uses of agents that are not indicated by the FDA. The opinions expressed in the educational activity are those of the faculty. Please refer to the official prescribing information for each product for discussion of approved indications, contraindications, and warnings. Further, attendees/participants should appraise the information presented critically and are encouraged to consult appropriate resources for any product or device mentioned in this program.

Ms. Seminara indicated that the articles would not include the discussion of unlabeled uses of commercial products or investigational/unapproved products not yet approved by the FDA for any use in the United States.
Conflict of Interest Resolution
To resolve identified conflicts of interest, the educational content was fully peer reviewed by members of the MediCom Content Review Committee. The resulting certified activity was found to provide educational content that is current, evidence-based, and commercially balanced.
Americans with Disabilities Act/Special Needs
MediCom Worldwide, Inc. is committed to equality of educational opportunity and does not discriminate against applicants, students, or employees on the basis of race, color, religion, sex, national origin, age, disability, veterans status, or sexual orientation.
Hardware/Software Requirements
MediCom Worldwide, Inc. requires Internet Explorer® version 7.0 or higher, or Firefox 3.0 or higher, a computer running Windows® XP, Windows® Vista, or Mac OS X, 512MB of RAM or greater, 1.5 GHZ or faster processor, and a screen resolution of 1024x768 or higher. Certain educational activities may require additional software to view. These activities will be marked with the information and/or links to the required software. That software may be Adobe® Flash® Player, Adobe® Acrobat®, Windows Media® Player or Microsoft®Silverlight™.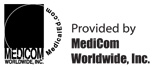 Supported by an educational grant from Millennium Pharmaceuticals, Inc.

©2010 MediCom Worldwide, Inc., 101 Washington St., Morrisville, PA 19067.
No portion of this material may be copied or duplicated without the expressed permission of MediCom.