Sagar Lonial, MD, FACP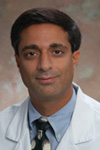 Department Chair
Professor of Hematology and Medical Oncology
Emory University School of Medicine
Atlanta, Georgia
Dr. Sagar Lonial earned his medical degree from the University of Louisville School of Medicine. He completed his internship and residency at Baylor College of Medicine in Houston, Texas, followed by a fellowship in hematology/oncology at Emory University School of Medicine in Atlanta, Georgia. He is the Department Chair for Hematology and Medical Oncology at Emory University.
Dr. Lonial serves as Vice Chair of the Myeloma Committee in the Eastern Cooperative Oncology Group and as Chair of the Steering Committee for the Multiple Myeloma Research Consortium. Additionally, he is on the Board of Directors for the International Myeloma Society and on the Scientific Advisory Board for the International Myeloma Foundation. Dr. Lonial is the myeloma editor for Clinical Lymphoma and Myeloma and is on the editorial board for the Journal of Clinical Oncology. He is also an ad hoc reviewer for Blood, Cancer Research, Clinical Cancer Research, Haematologica, Leukemia, and other journals, and has authored or co-authored over 200 papers and abstracts.

Dr. Lonial has worked in the field of immunotherapy and cancer, and has spent time developing the B-cell malignancy program with respect to novel targeted agents in laboratory models as well as early clinical trials. His previous laboratory work has focused on evaluating the impact of purified dendritic cell subsets on the nature of immune responses against antigen. Most recently, Dr. Lonial has focused on combinations of novel agents as therapy for myeloma and lymphoma, particularly evaluating combinations that may result in synergistic inhibition of the PI3-K/Akt pathway and the role of 14-3-3 in proteasome function.
Last modified: April 4, 2022
Authored Items
What has been the overall impact of safety and efficacy in four-drug regimens compared to three-drug regimens?