Joshua Richter, MD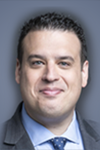 Assistant Professor of Medicine
Tisch Cancer Institute
Icahn School of Medicine at Mount Sinai
Director of Myeloma
Blavatnik Family Center at Chelsea Mount Sinai
New York, New York
Dr. Joshua Richter received his medical degree from New York Medical College. He completed an internal medicine residency at St. Vincent's Hospital – New York Medical College, and a hematology/oncology fellowship at Yale Cancer Center, Yale University. Dr. Richter served as Clinical Assistant Professor at Rutgers University, New Brunswick, New Jersey, and worked in the Division of Myeloma at the John Theurer Cancer Center, Hackensack University Medical Center, Hackensack, New Jersey. He is currently an Assistant Professor of Medicine at the Icahn School of Medicine at Mount Sinai and Director of Myeloma at Blavatnik Family Center at Chelsea Mount Sinai.
Dr. Richter is board certified in internal medicine, hematology, and medical oncology. He has been published in numerous oncology journals including New England Journal of Medicine, Blood, Journal of Clinical Oncology, and the British Journal of Haematology. Dr. Richter specializes in multiple myeloma as well as other plasma cell dyscrasias such as amyloidosis and Waldenstrom's macroglobulinemia. His clinical research interests focus on multi-functional antibodies and precision medicine.
Last modified: July 29, 2022
Authored Items
What do you see for the future of myeloma treatment?