Noopur Raje, MD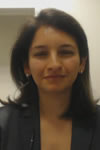 Professor of Medicine
Harvard Medical School
Director, Center for Multiple Myeloma
Massachusetts General Hospital
Boston, Massachusetts
Dr. Noopur Raje received her medical degree from B.J. Medical College, Pune University, India. She has trained in internal medicine at Massachusetts General Hospital (MGH) and has completed a fellowship in hematology and medical oncology at the Dana-Farber Cancer Institute, Boston. Dr. Raje has a joint faculty appointment at MGH and Dana-Farber Cancer Institute. She is a professor of medicine at Harvard Medical School and is the director of the Multiple Myeloma Program, Medical Oncology, at MGH. As a hematologist/oncologist at MGH, Dr. Raje's primary focus is in multiple myeloma and related research. Her laboratory focuses on bone biology and the development of novel therapeutics for multiple myeloma, as well as identifying and validating novel targets and translating them into clinical trials.
Dr. Raje is a member of the American Medical Association, America Society of Hematology, American Society of Clinical Oncology, and American Association of Cancer Research, she is also an ad hoc reviewer for several journals including Blood, Clinical Cancer Research, Leukemia, and the American Journal of Hematology. Dr. Raje is the recipient of several awards and has published extensively in the field of multiple myeloma research. Her hope is to continue pursing laboratory and clinical research in the area of multiple myeloma with the goal of translating her efforts to the improvement of patients' lives.
Faculty Disclosure
Dr. Noopur Raje has received honoraria from Celgene Corporation.
Last modified: July 6, 2018
Authored Items
BB2121 in Relapsed/Refractory Multiple Myeloma: An Analysis of High-Risk Subgroups in the KarMMa Study
Is it Time to Treat Smoldering Multiple Myeloma?
Smoldering Multiple Myeloma: New Ways of Stratifying Risk of Disease Progression